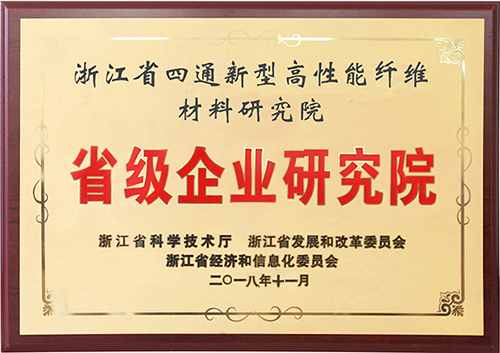 "Zhejiang Sitong High Performance FiberMaterials Research Institute", nominated by Sitong New Material Co. Ltd., haveearned the title of Zhejiang Enterprise Research Institute. This honor marksthe recognition and recognition of the relevant government departments for thework of Sitong Research Institute have done about the construction of atechnical innovation system. Sitong Research Institute, from a provincial-levelenterprise technical center focusing on single technology innovation, havegrown to an enterprise research institute with industrial-leading technologyadvancements.
Enterprise Research Institute is animportant part of the national technology innovation system, and is the core engineof enterprise innovation-driven development. It is a high-level and high-techresearch and development institution established by enterprises. TheDevelopment and Reform Commission, the Economic and Information Committee andthe Technology Department of Zhejiang Province have jointly formulated the"Administrative Measures for Zhejiang Enterprise Research Institute"in 2014. and started to carry out the certification work. The aim is to gatherand integrate innovative elements, support the sustainable development ofenterprises, and lead the development of the region and the industry in termsof scientific and technological research, personnel training, institutionbuilding, system improvement and mechanism innovation, and build a number ofdemonstration bases for industrial technology progress in our province.
As themain body of the technical system of Sitong Company, the Sitong ResearchInstitute has been undertaking the mission of technological innovation, productdevelopment, project cooperation and process improvement. The Institute havecontinued to research and development of new technologies, new processes andnew products with strong competitiveness and independent intellectual propertyrights, and to provide strong technical support for the sustainable developmentof the company. From the technical department at the beginning of the company'sestablishment, to the later technical center, technology research anddevelopment center, and now to the research institute, Sitong ResearchInstitute has been continuously improved and perfected with the growth of thecompany.
 In the next step, Sitong Research Institute, as the new ZhejiangSitong High-performance Fiber Materials Research Institute of , will undertakethe heavy responsibility of driving the overall development of newhigh-performance fibers for carpets. We will accelerate the pace oftechnological innovation, develop new energy-saving andenvironmentally-friendly materials with high added value, high reliability andhigh-tech content, and with further cooperation, to become an excellent exampleof the development of the carpet yarn industry.